P&G CEO ACADEMY 2015
   UNLEASH THE LEADER IN YOU
         Learn from the #1 Company                     Growing for Leaders*
What is the P&G CEO Academy?

The CEO Academy allows you step into the life of a senior executive at P&G. This program brings together the most promising student leaders in the Philippines and gives you a taste of life in the #1 Company for Growing Leaders. By joining the program you can expect to:
1. Experience what it's like to lead a multi-billion dollar business through case studies, fieldwork, and team challenges
2. Receive Leadership Training from senior P&G executives who have worked all over the globe 
3. Get coaching and mentoring from seasoned P&G managers 
4. Immerse yourself in our different departments through modules that give you a taste of the exciting work being led by P&Gers today
5. Learn from P&Gers through the Career Panel and Networking Breakouts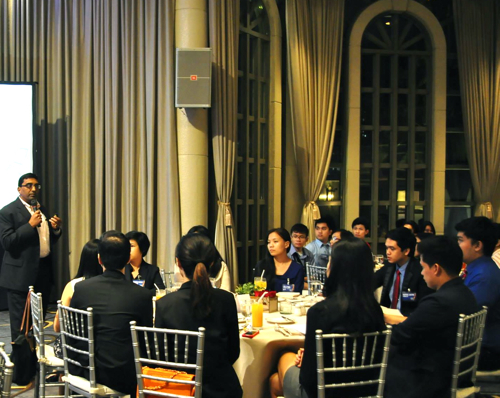 When is the program?
The CEO Academy will take place on October 19 – 23, 2015 at the new P&G Philippines Head Office in 10F Net Park, 5th Avenue, Crescent Park West, Bonifacio Global City. Participants accepted into the program will be expected to join all the modules that will take place on October 19 and 23. Participants also have the choice to sign up for 1 optional fieldwork that will take place on October 20, 21, or 22.
What's in it for me?
All CEO Academy participants will be given priority for the 2016 Dream P&G Summer Internship Program. Successful interns will stand a chance to receive full time job offers for Management roles at P&G.
How do I apply?

The 2015 CEO Academy is open to all university students who are graduating in 2016, 2017 or 2018. Other interested applicants who have already graduated or are looking for fulltime jobs by 2015 are encouraged to apply driectly for fulltime positions at our career website. Applications for the CEO Academy must be completed by October 9, 2015.
• Step 1: Visit the www.philippines.pgcareers.com select "Apply Now" and look for "P&G CEO Academy 2015"
• Step 2: Complete your online application and upload your resume, which should contain the following information:
- Complete name, email, mobile number
- University and degree, year of graduation
- Academic results, including GPA and any other scholastic achievements
- Your top 3-5 leadership roles or experiences to date. Include 2-3 sentences to describe your role, the specific contributions you made and the results achieved.
• Step 3: Complete the 45 minute online assessment
Start your application now! HTTPS://PG.TALEO.NET/CAREERSECTION/10000/JOBDETAIL.FTL?JOB=ASI00000520
Qualifications:
• University students graduating in 2016, 2017 or 2018 and are interested in pursuing internships with P&G in 2016
• Has experience working with groups through formal or informal positions of leadership (ex. student organization, varsity, thesis)
• Is driven to overcome barriers or setbacks to consistently deliver strong results
• Feels comfortable collaborating with people from different levels, backgrounds and experiences 
• Is able to use their analytical ability to derive insights from data and come up with business or     organizational decisions
• Has strong passion to continuously stretch themselves to learn new things and grow as a professional
Important Dates:
• October 9: Deadline to complete online submission of resume & online assessment
• October 12: Release of results for successful applicants to CEO Academy
• October 19: CEO Academy Day 1 (modules required for all)
• October 20-22: CEO Academy Fieldwork (optional fieldwork – by sign up)
• October 23: CEO Academy Day 2 (modules required for all)
• November – December 2015: Written Test Schedules for Dream P&G Internship Applicants
• January – March 2016: Interviews for Dream P&G Internship Applicants
• April 2016: Release of results for successful applicants to Dream P&G Internship 2016
• May – July 2016: Dream P&G Internship 2016
Find out the latest updates on P&G CEO Academy and other P&G career opportunities by following our Facebook page atWWW.FACEBOOK.COM/PGCAREERSPH
*Ranking from Chief Executive 2014